Improve Your Home Bar with Our Selection of Stylish and Elegant Bar Stools
Navigation
Introduction
Nothing completes a home bar quite like attractive, high-quality bar stools. From traditional leather iterations to contemporary metal renditions, these seating options contribute significantly to the ambiance and style that pair with your choice of craft spirits and cocktails. Whether you're curating a casual space for friendly gatherings or a formal entertaining area, bar stools lend the sophisticated design flourish your bar area deserves. Choosing the right bar stools, bearing in mind comfort, durability, and stylish design, can enhance any home bar, no matter your preferred aesthetic.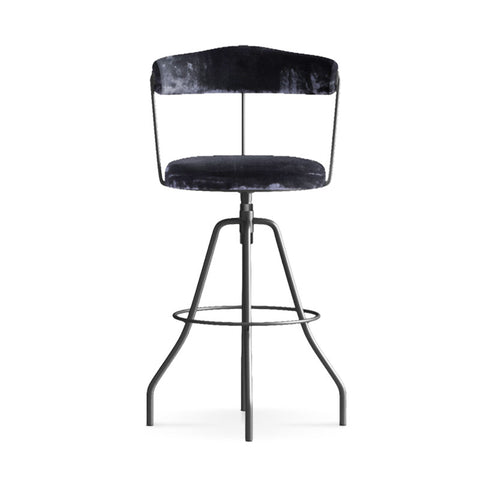 Features and Benefits of Chic and Elegant Bar Stools
Chic and elegant bar stools bring a multitude of features and benefits that heighten both the functionality and aesthetics of any home bar. Key characteristics of bar stool designs include:
Adjustable Heights: Many bar stool designs boast adjustable seat heights to cater to individuals of varying statures and requirements. This feature allows a broader range of people to comfortably enjoy your bar.
Comfortable Cushions: Bar stools equipped with cushioned seats ensure enduring comfort, be it for a casual cocktail hour or a long evening spent entertaining guests. Cushion varieties span from leather and vinyl to padded fabric covers.
Back Rests: Bar stool designs inclusive of backrests provide posture support and optional armrests for optimum comfort, making them ideal for extended periods of sitting.
Stable Bases: Robust four-legged, swivel, and stationary designs guarantee stability for secure seating and standing, with wider bases offering added stability for more strenuous use.
Variety of Materials: A range of materials, including wood, metal, and plastic, offer different aesthetic choices that harmonize with your bar decor, spanning from rustic to modern. Leather bar stools impart an elegant and timeless appeal.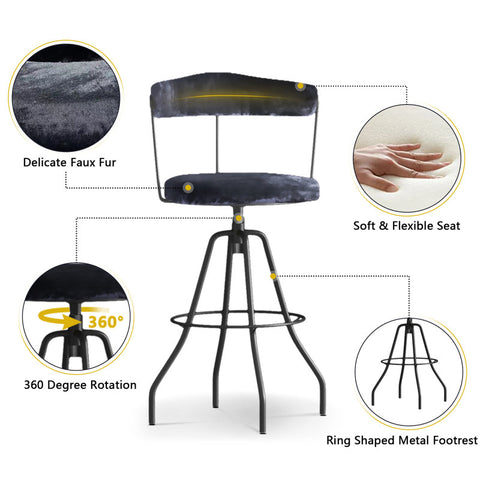 Types of Chic and Elegant Bar Stools to Elevate Your Home Bar
Various types of chic and elegant bar stools are available to enhance your home bar's aesthetic:
Leather Bar Stools: These timeless pieces boast top-grain genuine or synthetic leather in subdued tones that complement any decor, imparting a sophisticated and upscale ambience to your bar.
Metal bar stools: Models with designs in chrome and iron give an industrial aesthetic suitable for modern spaces. Metal stools are known for their durability and simple cleaning.
Wood bar stools: Crafted from materials like maple, oak, teak and mahogany, these stools offer an inviting aesthetic that pairs well with rustic or classical home bars due to their natural appeal.
Swivel bar stools: These rotating stools, offering 360-degree turns, provide extra convenience and functionality, making them perfect for areas with restricted space. They easily adjust to face multiple directions.
Hydraulic Bar Stools: These adjustable stools feature a hydraulic lift system that allows for easy seat height adjustment via a lever, facilitating personalized comfort.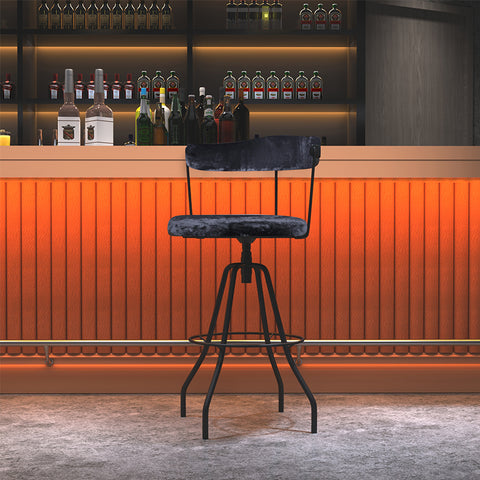 Choosing the Ideal Style of Bar Stools for Your Home Bar
When selecting the ideal style of bar stools for your home bar, it's essential to consider several factors. Begin by contemplating the overall aesthetic and decor of your bar area. Do you envision a traditional wooden style or a modern metallic one? Matching your bar stools' material and design to your existing decor results in a cohesive and polished look.
Comfort should be a primary consideration when choosing bar stools. If you anticipate spending extended periods at your bar, features like cushioned seats, backrests, and adjustable heights become increasingly significant.
Yet, durability and stability should not be underestimated, especially if your household includes young children or pets. Heavier, wider bases and robust frames contribute to the longevity and safe usage of your bar stools.
Lastly, functional features like swivel and adjustable capabilities enhance your bar stools' usability. Evaluating your specific needs and priorities will guide you towards the ideal style of bar stools to elevate your unique home bar space.
Conclusion
Investing in the addition of chic and elegant bar stools to your home bar is an easy and cost-effective way to augment your bar area's functionality, aesthetics, and overall ambiance. From classic leather designs to cutting-edge metal styles, high-quality bar stools offer comfort, stability, and a design accent that aligns with your personal preferences. When in the market for bar stools, prioritize features that meet your needs, balancing both form and function. With the right selection, your home bar will metamorphose into a welcoming space for relaxation, entertainment, and the enjoyment of good company and exceptional cocktails for years to come.
Read More