Product Overview When comfortably snuggled in this iron lounge chair, you can really feel the cloud-like softness....
Regular price

$509

Sale price

$459

Unit price

per
Free Shipping
Delivered within 3-5 business days
Product Overview
When comfortably snuggled in this iron lounge chair, you can really feel the cloud-like softness. The uniquely designed W metal frame shape is a perfect blend of beauty and safety, and the upholstery attached to the frame is made of breathable linen fabric filled with fluffy feathers and cotton to maximize comfort, allowing you to enjoy lazy leisure time in the afternoon.
---
Features
The large seating space allows your body to get a complete stretch.
Soft fabric wrapped in a large amount of padding, resilient, long sitting without collapse.
The ergonomic tilt angle effectively relieves the body's back and lumbar region.
Iron frame surface with powder coating treatment, sturdy material with stronger weight-bearing capacity.
Easy to assemble, in 15 minutes or less.
---
Dimensions & Weights
| | |
| --- | --- |
| Overall | 36'' H x 36.5'' W x 37'' D |
| Seat | 20.25'' H x 37'' W x 20'' D |
| Back | 17'' H |
| Legs | |
| Overall Product Weight | 29 lbs |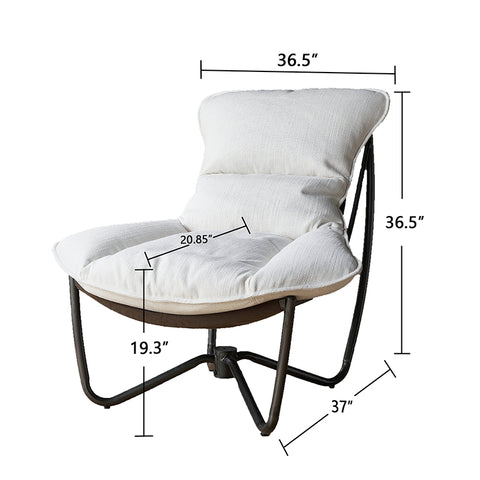 ---
Specifications

| | |
| --- | --- |
| Upholstery Material | |
| | |
| | |
| | |
| | |
| | |
| | |
| | |
| | |
| | Feather Blend (Foam and feather) |
| | |
| | |
| | Scratch Resistant; Tear Resistant |
| | Wipe with a clean dry cloth |
| | S: Spot clean with dry, solvent-based cleaner |
| | |
| | |
| Supplier Intended and Approved Use | |
| | |
| CAL TB 117-2013 Compliant | |
| | |
| Commercial Warranty | No |
| Product Warranty | Yes |
| Warranty Length | 1 Year |
| | Limited |
---
What is an Iron Lounge Chair?
An iron lounge chair is a type of armchair that is made of iron or steel. Iron lounge chairs are known for their durability and strength and are often used outdoors or in other high-traffic areas. Iron lounge chairs may have various features, such as cushions, armrests, and footrests, and they can be finished in a range of colors or styles to match your decor. Iron lounge chairs are often paired with other metal furniture, such as tables or benches, to create a coordinated look.
What are the advantages of the Iron Lounge Chair?
There are several advantages to using an iron lounge chair in your home. First, iron is a strong and durable material, so an iron lounge chair is built to last and withstand regular use. Additionally, iron is resistant to rust and weathering, so an iron lounge chair can be used outdoors without worrying about damage from the elements. Iron lounge chairs are versatile and can be finished in various colors and styles, so you can choose one that matches your existing decor or creates a new look in your space. Furthermore, iron lounge chairs are often elegant and stylish, so that they can add a touch of sophistication to your outdoor living area.
How do you clean the Iron Lounge Chair?
To clean an iron lounge chair, you must start by dusting or vacuuming the chair to remove any loose dirt or debris. Next, mix a mild soap solution and warm water, and use a soft cloth to gently scrub the chair. Avoid using harsh cleaning chemicals or abrasive sponges, as these can damage the finish of the iron. After scrubbing the chair, use a clean damp cloth to remove any soap residue, and then allow the chair to air dry. If the iron on your lounge chair is particularly dirty or corroded, you may need a specialized metal cleaner to remove tough stains or rust. Always follow the manufacturer's instructions when cleaning products on your iron lounge chair.