Product Overview This is a timeless butterfly chair design! Its open metal base is subtly connected to...
Regular price

$378

Sale price

$328

Unit price

per
Free Shipping
Delivered within 3-5 business days
Product Overview
This is a timeless butterfly chair design! Its open metal base is subtly connected to the fine fabric trim showcasing a unique butterfly design that complements the rest of the furniture with its simple yet elegant design. The brown fabric brings warmth and allure, with button tufted upholstery adding a richness that blends effortlessly under any space.
The one-piece and detachable design of the back and seat cushions provides a variety of ways to use and facilitate daily cleaning. The overall use of retro-chic tone, stylish brown leather with dark gray linen, the bottom is made of old iron gray bracket, conveying a strong and fashionable industrial atmosphere, is a must-have lounge chair at home for anyone who likes trends can not miss. If you prefer the soft touch of the fabric, there is another chenille fabric available.
At the same time, it is an interesting lounge chair that can be easily assembled by just one person. The process of assembling this chair is not only not troublesome, but you can feel the ingenuity of the designer in the process of assembling, which is as enjoyable as playing with assembly toys in childhood.
---
Features
Relaxed and Lazy: The Butterfly Chair is designed for maximum body relaxation and stretching.
Soft and Comfortable: Genuine Leather or Chenille fabric wrapped in cotton and feathers for a light and comfortable sitting experience.
Sturdy and Stable: The iron frame base is as evenly stressed as the flower support, with strong stability.
Innovative Modeling: Hanging basket-type seat, snap solid, safe to use.
Easy to Assemble: Simply fix the feet, and then connect the fabric and upholstery to complete.
---
Dimensions & Weights
| | |
| --- | --- |
| Overall | 33'' H x 29'' W x 29'' D |
| Seat | 18'' H x 22'' W x 17'' D |
| Back | |
| Overall Product Weight | |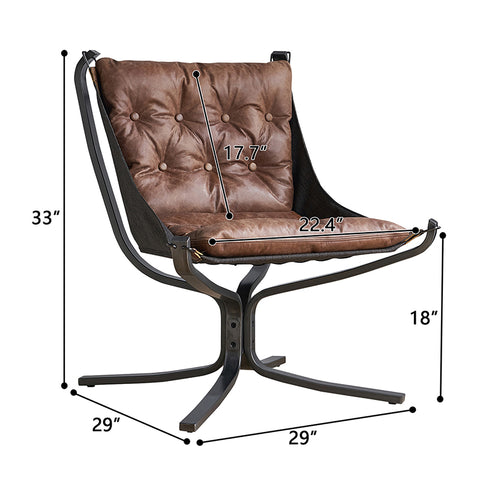 ---
Specifications

| | |
| --- | --- |
| Upholstery Material | Cowhide |
| | Cotton; Feather |
| | |
| | |
| | |
| | |
| | |
| | |
| | |
| | |
| | Feather Blend (Foam and feather) |
| | Scratch Resistant; Tear Resistant |
| | Wipe with a clean dry cloth |
| | S: Spot clean with dry, solvent-based cleaner |
| | |
| | |
| Supplier Intended and Approved Use | |
| | |
| CAL TB 117-2013 Compliant | |
| | |
| Commercial Warranty | No |
| Product Warranty | Yes |
| Warranty Length | 1 Year |
| | Limited |
About industrial lounge chair
The industrial lounge chairs are not as large and bulky as sofas, nor as formal as ordinary chairs. Its highly individual retro industrial appearance style not only satisfies the basic function of rest, but also serves as a landscape of the home environment, highlighting the home lifestyle. Whether lounging, chatting or reading, the industrial lounge chair is the perfect piece of furniture.
In winter, sitting on a comfortable industrial lounge chair, picking up a book of your choice, drinking coffee, being in a warm room and enjoying the snowy scene outside the window, is so relaxing.
How to maintain industrial lounge chair?
When using it daily,avoid direct sunlight and do not come into direct contact with high-temperature heat sources, otherwise it will lead to aging and deterioration of the leather and fabrics.
When cleaning leather lounge chair with stains or scratches, do not use water directly, but a dry cloth with a special leather cleaner and wipe gently. Be careful of sharp objects leaving scratches on the surface of the furniture.
Clean regularly to keep the pores on the surface of the leather from being blocked by dust, you can gently wipe it with a wet cotton cloth or silk when scrubbing. After wiping, it can also be repaid with glossy wax to keep the surface smooth.
If stained with oil, wipe with a cotton cloth or towel with an appropriate amount of neutral soapy water, then dry with a dry cotton cloth, do not scrub directly with water.
After cleaning, the leather can be sprayed with special leather cleaner and repeatedly wiped with silk fabrics to prevent leather aging.
If it is a fabric industrial lounge chair, the best way is to clean it with a vacuum cleaner, and do not wait until it is dirty to clean. Vacuuming is done once a week. In the process of vacuuming, be careful not to use a brush, because the weaving thread on the fabric may be more fragile. It is best to use a small vacuum cleaner, and it is also possible to use a cotton cloth to clean the dust.
In addition, the fabric is cleaned with a detergent once a year, but be sure to wash off the detergent and do not leave traces, otherwise it is easy to produce dirt. When choosing a cleaner, you can choose a special cleaner that contains an antifouling agent.
When stains are found on the fabric, wash them with a wet towel. After wringing out the wet white towel, spray the appropriate amount of detergent on the towel, wipe the stained place, cooperate with the soft brush to brush in the direction of the cloth pattern, and finally wipe it again with the wrung-dried white towel to clean the residual cleaner.
Very nice sturdy chairs
Very nice sturdy chairs. Easy to put together. Perfect for our sitting room. Oh and super kid friendly!
Beautiful!
Beautiful! Exactly as expected. These chairs look amazing in my Speakeasy-style bar! Very masculine and so comfortable!!
Nice chair
This beautiful chair turned out to be such a great match to go with the leather furniture in our living room. 
This product is exceptionally beautiful
This product is exceptionally beautiful. Shipping was fast and product arrived on time. I have received tons of compliments already!