Product Overview Upgrade your home decor with this antique side table, featuring a handcrafted finish that not...
Regular price

$329.99

Sale price

$299.99

Unit price

per
Free Shipping
Delivered within 3-5 business days
Product Overview
Upgrade your home decor with this antique side table, featuring a handcrafted finish that not only works for modern home decor but also adds vintage charm to mid-century style. The cast metal side table features a rounded top and support columns for an overall smooth flow that resembles a natural work of art, and its rustic charm and high value make it the perfect addition to any space or corner in your home.
---
Features
The minimalist design of the antique side table perfectly decorates any space
The antiqued brass finish metal makes it durable and corrosion-resistant
Unique home decor metal made to withstand regular wear and tear
A spacious round tabletop provides display space for decorative items
Enjoy this beauty right out of the box
---
Dimensions & Weights
| | |
| --- | --- |
| Overall | 22'' H x 19.5'' W x 19.5'' D |
| Table Top Thickness | 0.2'' |
| Overall Product Weight | 35 lbs |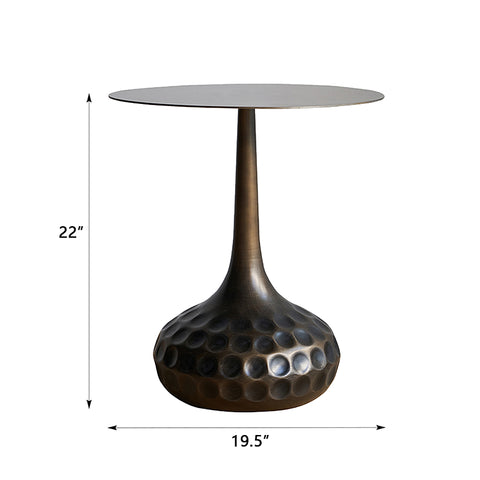 ---
Specifications

| | |
| --- | --- |
| Top Color | Light Brown |
| | Light Bronze |
| | Iron |
| | |
| Base Metal Finish Application | Bronzed |
| Supplier Intended and Approved Use | |
| | |
| | |
| | |
| Commercial Warranty | No |
| Product Warranty | Yes |
| Warranty Length | 1 Year |
| | Limited |
---
About end table
End tables are commonly used to display photos, decorations, snacks, drinks and coffee. This type of small and beautiful table fits anywhere in the room, both practical and adds a sense of style to the space.
FAQs
1)What is the use of the end table?
The end table is very multifunctional furniture. Placed next to the sofa, decorate the corner space. Placed next to the bed, it can be used as a bedside table where some things can be placed.
2)What is the difference between a end table and a coffee table?
The coffee table is generally placed in the middle of the living room, used by the meeting party, and is the main table. The side table is an excellent addition to the furniture in the living room, usually paired with lounge chairs and sofas.
3) 

How to maintain the iron end table?
To maintain an iron end table, you should dust or vacuum it regularly to remove any dirt or debris. You should also use coasters or placemats to protect the surface of the table from spills or scratches. If the iron on your end table begins to rust or corrode, you can use a specialized metal cleaner to remove the rust and restore the finish. Avoid placing heavy or sharp objects on the table, as this can damage the iron or cause it to break. You can also apply a coat of wax or furniture polish to the iron to help protect it from moisture and maintain its shine. Regular cleaning and maintenance will help to keep your iron end table looking good for years to come.
---
About Minimal and Modern Furniture

Minimal and modern furniture often has a clean, simple, and uncluttered design, with straight lines and geometric shapes. This type of furniture often lacks ornate details and decorative elements, and focuses instead on functionality and form.
Minimal and modern furniture often uses high-quality materials, such as wood, metal, and glass, and incorporates innovative technologies and construction techniques.
Minimal and modern furniture often incorporates neutral colors, such as white, black, and gray, and incorporates pops of bold color through accents, such as cushions or accessories.
Minimal and modern furniture is versatile and can be used in a variety of settings, from offices and homes to public spaces and outdoor areas.
Minimal and modern furniture can be paired with other types of decor, such as traditional or eclectic, to create a unique and personalized aesthetic.
Minimal and modern furniture can help to create a sense of openness and airiness in a space, and can make a room feel more spacious and inviting.
Minimal and modern furniture is often designed with sustainability in mind, and may be made from eco-friendly materials or produced using environmentally-conscious manufacturing processes.
Just add to cart
If you need a smaller table this thing is perfect, can go with nearly any space, transitional, modern or industrial. It was well packaged and super easy to assemble.Beefy metal base should withstand a good deal of abuse. Just add to cart!
Great sturdy end table
Great sturdy end table. Comes in One piece. Nice and heavy, does not tip over easily. The base is actually really solid and our dogs bumping into it does not cause the end table to wobble.