Product Overview Upholstered contemporary sofa design made of soft linen fabrics can be arranged and reconfigurable in...
Regular price

$2,699

Sale price

$2,199

Unit price

per
Free Shipping
Delivered within 3-5 business days
Product Overview
Upholstered contemporary sofa design made of soft linen fabrics can be arranged and reconfigurable in various ways for small or large spacious living areas to accommodate different spaces. This set includes a left corner seat, right facing corner seat, and a removable ottoman. The chaise of the couch can be either right or left side. You can build the position and shape you like. The sofa is soft with comfy high density foam cushions for ultimate comfort and support. Optimal softness with extra padded cushioning gives sofa relaxing feeling. Relax all day in your living room while watching TV or taking an afternoon nap.
Features
Constructed with hardwood frame, the couch is durable to provide long service life, not easy to deform and crack.
Overall Dimensions 145.76" x 56.3 " x 33.86" up to 4 or 6 people, sofa wt. capacity up to 1500lbs.
Removable design:back pillow are designed with zip-off cover, removable and cleaned easily.
Dimensions & Weights
| | |
| --- | --- |
| Overall | 33.86'' H x 145.76'' W x 56.3'' D |
| Overall Product Weight | |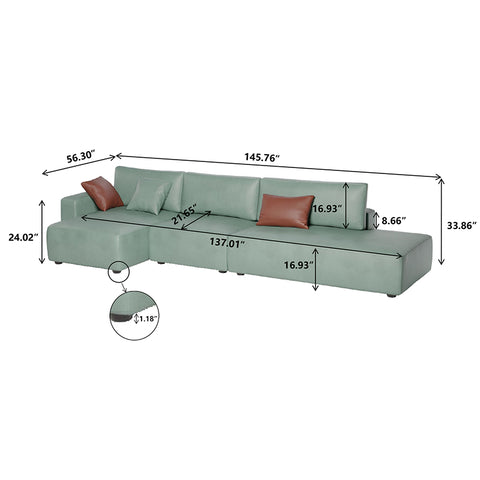 ---
Specifications
| | |
| --- | --- |
| Seating Capacity | 4-6 |
| | |
| Main Color | Teal |
| | |
| Supplier Intended and Approved Use | |
| | |
---
Q&A
Sure! Here are some common questions about linen sofas:
What is a linen sofa made of?
Linen is a natural fiber made from the flax plant, which is known for its durability and breathability. Linen sofas are made from linen fabric or upholstery, which is used to cover the cushions, back, and arms of the sofa.

What are the benefits of a linen sofa?
Linen is a strong and durable fabric that can withstand regular use. It is also hypoallergenic, making it a good choice for people with allergies. Linen is also a natural, sustainable material that is biodegradable and environmentally friendly. In addition, linen is known for its breathability, which makes it a comfortable choice for hot or humid climates.

How do you care for a linen sofa?
Linen is a relatively low-maintenance fabric, but it does require some care to keep it looking its best. Here are a few tips for caring for your linen sofa:
Vacuum regularly to remove dust and dirt.
Spot clean spills and stains as soon as possible using a mild detergent and water.
Avoid placing your linen sofa in direct sunlight, as this can cause fading over time.
Consider using a fabric protector spray to help prevent stains and spills from setting in.
Can a linen sofa be washed?
In most cases, it is not recommended to wash a linen sofa as it may shrink or become damaged in the process. Instead, it is recommended to spot clean stains and spills using a mild detergent and water. If your linen sofa is particularly dirty or soiled, you may want to consider hiring a professional cleaning service to handle the cleaning for you.

How long does a linen sofa last?
A linen sofa can last for many years with proper care and maintenance. In general, the lifespan of a sofa will depend on the quality of the materials and construction, as well as how it is used and cared for. By regularly vacuuming and spot cleaning your sofa, and taking care to avoid exposing it to direct sunlight or other harsh conditions, you can help extend its lifespan.
The sofa is as expected
The sofa is as expected. My whole family loves it. So far it looks comfortable.
Love this color
Love this color. Perfect sofa. It's very nice!