Product Overview Modern and elegant, the armchair not only has comfort, its back is wrapped in polished...
Regular price

$548

Sale price

$498

Unit price

per
Free Shipping
Delivered within 3-5 business days
Product Overview
Modern and elegant, the armchair not only has comfort, its back is wrapped in polished aluminum that shows off a sparkling glow when illuminated by light, and its stylish design complements modern home decor. The scalloped back of the chair is channel tufted to add a polished look to their space. Built on four tapered legs, their frame presents an understated silhouette that is the perfect addition to any space.
---
Features
The teddy fleece finish is soft to the touch and possesses a certain level of abrasion resistance.
The aluminum sheet built back is designed to be stain resistant and easy to care for.
The tapered iron legs are well powder-coated and come with non-slip foot pads.
No assembly is required.
---
Dimensions & Weights
| | |
| --- | --- |
| Overall | 29'' H x 26.75'' W x 27'' D |
| Seat | 17.25'' H x 22.25'' W x 19.25'' D |
| Back | 11.75'' H |
| Legs | |
| Overall Product Weight | 32 lbs |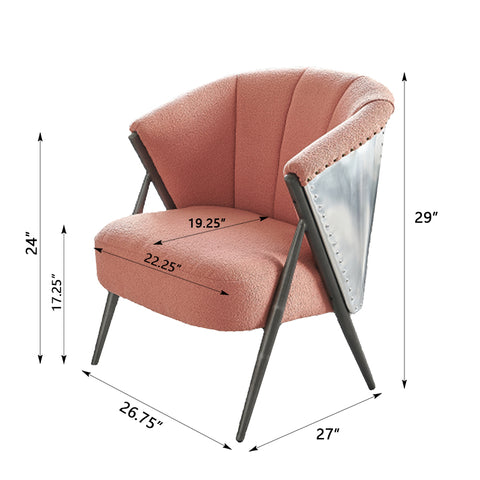 ---
Specifications

| | |
| --- | --- |
| Upholstery Material | 100% Polyester |
| | Foam |
| | |
| | |
| | |
| | |
| | |
| | |
| | |
| | |
| | Wipe with a clean dry cloth |
| | X: Clean by lightly brushing and/or vacuuming to remove dust |
| | |
| Supplier Intended and Approved Use | |
| | |
| CAL TB 117-2013 Compliant | |
| | |
| | |
| Commercial Warranty | No |
| Product Warranty | Yes |
| Warranty Length | 1 Year |
| | Full |
---
F&Q

1) Why do you say that Modern Barrel Chair is comfortable to sit?
Modern barrel chairs are often designed with comfort in mind and may feature a rounded or curved shape that cradles the body and provides support. The chairs may also have padded cushions and soft, breathable upholstery that provides a comfortable and supportive surface. Additionally, barrel chairs may have adjustable features, such as a reclining backrest or adjustable armrests, allowing the user to customize the chair to their preferred comfort level. Combining these design elements can make modern barrel chairs comfortable to sit on for extended periods.

2) Do modern barrel chair need maintenance? How should it be maintained, if necessary?
Like all furniture, modern barrel chairs may require some maintenance to keep them looking and functioning their best. The specific maintenance requirements of a barrel chair will depend on the materials it is made from and the type of use it receives. In general, however, a barrel chair may require the following types of maintenance:
Dusting and cleaning: Dust and dirt can accumulate on the surface of a barrel chair, especially on the cushions and upholstery. Regularly dusting and cleaning the chair with a soft, damp cloth can help to remove dirt and keep the chair looking clean and fresh.
Vacuuming: If the barrel chair has removable cushions or upholstery, it may be a good idea to vacuum the chair regularly to remove any dirt or debris that has accumulated inside. This can help to prevent the buildup of allergens and prolong the life of the chair.
Protecting the upholstery: If the barrel chair has a fabric upholstery, it may be a good idea to apply a fabric protector to help prevent stains and spills from soaking into the fabric. This can help to keep the chair looking clean and new for longer.
Tightening and adjusting: Over time, the bolts and screws on a barrel chair may loosen, and the cushions and upholstery may become saggy or misshapen. Regularly checking and tightening any loose bolts and screws, and adjusting the cushions and upholstery as needed, can help to keep the chair in good working order.
Professional cleaning: If the barrel chair becomes heavily soiled or stained, it may be a good idea to have it professionally cleaned. This can help to remove any tough stains or odors that cannot be removed with regular cleaning, and can help to restore the chair to its original condition.
Beautiful chair
Beautiful chair. Just a bit shorter than I'd like it to be. It's so cute!! So I'll make it work!!
I am in love with this chair.
I am in love with this chair. It is the prefect addition to my home office. It doesn't take up to much space but the chair itself is still very roomy when you sit. It is super comfortable and offers good back support to avoid getting back pains after sitting for a while. Would highly recommend this chair to anyone.
Love love love this chair
Love love love this chair! It's the perfect addition to my new office. Love the color and style! So so so cool!