7 Tips to Finding the Perfect Solid Wood Dinning Chairs for You
Navigation
Are you struggling to find the perfect solid wood dining chairs for your space? You may have special needs but don't know how to get your priorities right. Or you may get confused by a wide assortment of solid wooden chairs on the market. Today's blog will put your mind at ease, for we have included in this article several factors, including wood type, chair style, size, durability, maintenance, and costs, and have continued to give you 7 expert tips on how to choose the fittest chairs for your home.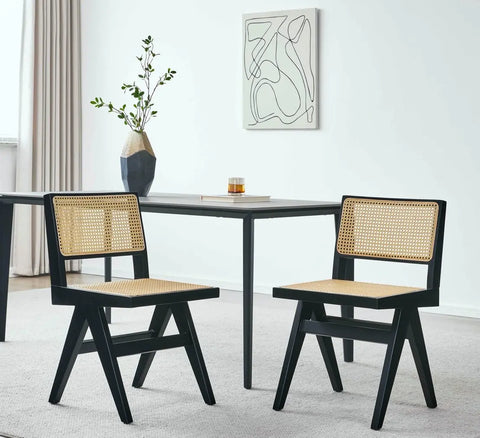 Type of the Wood
Focus on the type of wood, as different woods have different durability, texture, and color. For example, chairs made of solid wood are a popular choice because they are durable, sturdy, and attractive.
Style of Wood Dining Chairs
If your room has traditional aesthetics, opt for chairs with classic details such as turned legs and curved backs. Choosing chairs with simple lines and few decorations will help you create a more contemporary environment. A unified and attractive area will be produced by choosing chairs that complement your dining room.
Comfort of Wood Dining Chairs
While style is important, comfort is equally as essential when selecting dining chairs, for you'll be spending hours sitting in the chairs during dinner parties and family meals. Therefore, search for chairs with plenty of padding and a soft backrest. Additionally, a chair that is too high or low can be uncomfortable, so you should gauge the height of your table before purchasing any chairs.
Size of Wood Dining Chairs
A chair that is too big or small can appear odd and disrupt the equilibrium of the room. Before making any purchases, make sure to measure your dining room and eating table.
Durability of Wood Dining Chairs
Choose chairs that can endure wear and tear. So, search for pieces with sturdy joints and high-quality materials like hardwood and avoid chairs made of flimsy materials that are prone to warping or readily breaking over time, such as softwood.
Finish of Wood Dining Chairs
A superior finish will shield the chair from spills and marks and maintain its aesthetic appeal for many years. Look for chairs with a durable and easy-to-clean finish, such as a lacquer or polyurethane finish.
The Cost and Ease of Maintaining Solid Wood Chairs
Solid wood chairs need to be cleaned, polished, and repaired on a regular basis. Remember to choose one that requires easy and economical maintenance.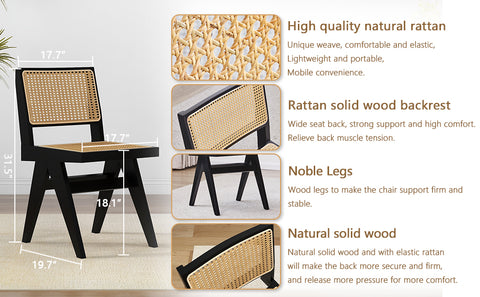 Conclusion
In conclusion, there are a number of factors that need to be carefully taken into account when selecting the ideal solid wood dining chairs for your house. You can choose the perfect chairs for your eating area that will offer your family members comfort, style, and utility by paying attention to these five helpful suggestions. If you want to know more about solid wood dining chairs and other wood furniture pieces for your dining room or other areas in your home, please check our website for more detailed information.
Read More