Outdoor Wooden Furniture: How Should I Design My Garden?
Navigation
Introduction
Outdoor wooden furniture is a wonderful addition to any garden, providing style, comfort, and versatility to your outdoor spaces. Designing an outdoor wooden furniture setup begins by envisioning how you want to use the spaces within your garden and what types of pieces will suit those needs. Key considerations include the size and shape of your garden, the amount of natural light and shade, what activities you want to do outside, and the overall aesthetic you're hoping to achieve. Proper furniture placement can maximize usability while creating distinct living areas that enhance your outdoor experience.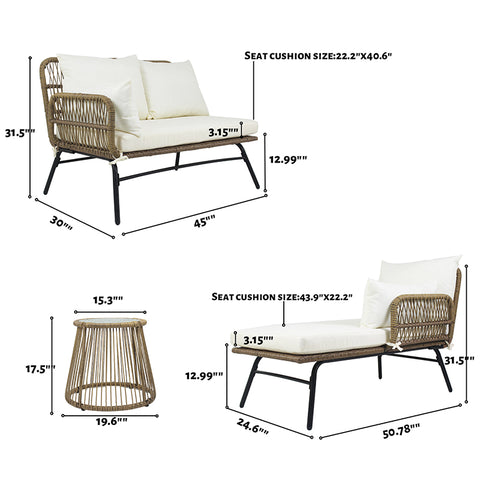 Assess Your Outdoor Space
The first step in designing your garden furniture is assessing the measurements and layout of your existing outdoor space. Take some time to determine any factors limiting where furniture can be placed. Some considerations include the following:
Walkways and pathways - Make sure furniture placements allow clear movement paths without obstruction.
Trees and plants - Large trees can provide shade but may limit large furniture from fitting under their canopy. Smaller plants and bushes can act as dividers or boundaries between seating areas.
Structures - Any existing sheds, gazebos, or pergolas will impact the furniture layout. Plan for either integrating furniture into these spaces or leaving clearances around them.
Light exposure - Determine how much direct sunlight different areas receive throughout the day. You'll likely want to place loungers and dining sets in sunny spots.
Hardscapes - Features like patios, decks, and retaining walls may direct where and how furniture is positioned.
Take measurements and sketch out your space's basic layout to visualize potential furniture groupings configurations.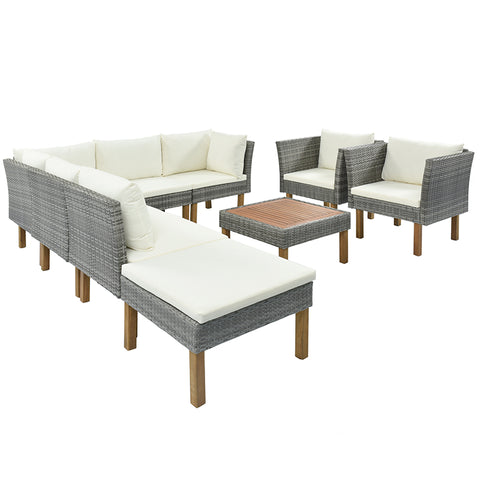 Choose Your Design Style
Once you understand the layout of your space, consider the overall design style you want for your outdoor furniture. Your style will depend on personal preferences and your home and garden's existing architecture and landscaping. Some common design styles for outdoor wooden furniture include:
Traditional - Furniture with curved details, scrolled or carved embellishments, and dark stain colors fit a classic, formal design style.
Modern - Clean lines, geometric shapes, and light or unfinished woodwork well for a more contemporary aesthetic.
Rustic - Distressed woods, natural finishes, and heavier, rougher-hewn pieces create a casual, unfussy country vibe.
Eclectic - Mix and match furniture of different styles and wood tones for a unique, unique collection of pieces.
Coastal - Weathered, bleached wood works well for an airy, beachy design aesthetic. Lightweight wicker and rattan can also fit this style.
Once you determine the overall style, look for wooden garden furniture in that vein that will complement yet not compete with your home's architecture. Consider furniture options that reinforce and strengthen the style you're going for.
Select Your Outdoor Wooden Furniture
With an understanding of your space and design style, you can start selecting the specific types of outdoor wooden furniture that will work best for you. Some common options include:
Tables - Dining tables are essential for outdoor entertaining. Consider round, rectangular, or teardrop shapes in varying sizes to accommodate your needs.
Chairs - Both armchairs and stools provide comfortable seating. Stackable chairs give flexibility.
Loungers - Chaise lounges and lounge chairs offer places to relax and recline. Choose deep or shallow designs depending on the desired comfort.
Benches - Simple benches provide extra seating and double as decorative garden accents. Look for styles with storage underneath.
Daybeds - Sturdy, full-length daybeds can function as additional sleeping surfaces for guests.
Swings - Hanging garden swings offer a relaxing, swaying motion. Choose from double, single, or toddler-sized options.
Consider the number of people you typically entertain outside and how you envision using your garden furniture - for lounging, dining, relaxing, or all of the above. Take measurements to ensure appropriate scale and spacing between pieces.
Accessorize Your Garden with Decor
Once your basic wooden garden furniture is selected and placed, consider ways to accessorize and decorate the space to make it your own. Outdoor decor accessories can enhance the style, function, and comfort of your garden:
Cushions and pillows - Outdoor cushions and pillows in coordinating fabrics and colors add comfort, style, and protection to wooden chairs and loungers.
Throw blankets - Cozy throw blankets draped over armchairs or daybeds make the space more inviting and comfortable. Look for weather-resistant outdoor blankets.
Rugs - Outdoor area rugs under seating groups and tables define spaces and provide a softer footing. Choose synthetic rugs meant for outdoor use.
String lights - Hanging strands of outdoor string lights festoon pergolas, draped tree branches, or garden swings, providing a cozy ambiance after dark.
Planters - Placing potted plants on or near furniture provides greenery, color, and privacy screening where desired.
Decorative accessories - Accent pieces like wall art, statues, vases, and whimsical garden decor help personalize the space and reinforce your overall design style.
With the right combination of hardscape furniture and soft goods, you can curate an inviting outdoor living space perfectly suited to your lifestyle, garden dimensions, and design preferences.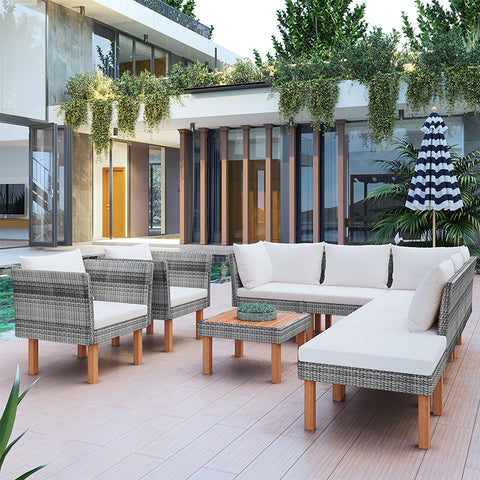 Make it Cozy and Comfortable
Once you have the basic furnishings and decor, focus on smaller details that transform your outdoor wooden furniture into a truly comfortable and inviting retreat. Some essentials for creating a cozy outdoor space include:
Cushions - As mentioned previously, cushioned seating elevates comfort levels significantly. Choose full, oversized cushions for optimum support and lounging.
Warm throw blankets - Keep some throw blankets on hand for chilly evenings. The warmth and softness will make sitting outside feel indulgent.
Footrests - Ottomans and poufs make ideal footrests, allowing you to stretch out and relax in chairs and loungers.
Accent pillows - Decorative pillows look cute and support your head, arms, and back as you recline.
Lighting - Beyond string lights, consider lanterns, solar post lights, and candle lanterns to provide a soft, ambient glow that encourages lingering outdoors.
Amenities - Provide extras like beverage holders, magazines, books, and games to encourage longer visits to your outdoor haven.
Music - Portable speakers let you play your favorite songs and make the space more live-in and welcoming.
Focusing on comfort and convenience details will transform your outdoor wooden furniture from simply functional to a place you enjoy relaxing and rejuvenating.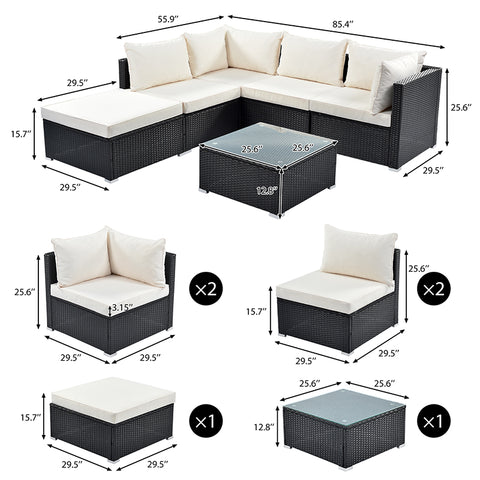 Maintenance and Care
Proper maintenance and care allow outdoor wooden furniture to last for many years. Some key steps to prolonging the life of your garden furniture include:
Cleaning - Wipe down furniture regularly with a damp cloth to remove dirt and debris. For harder-to-remove stains and buildup, use a mild detergent or deck cleaner and rinse thoroughly.
Protecting - Regularly apply an outdoor wood sealant or stain to protect the wood from weather damage. Kindly reach out to the furniture manufacturer for guidance on the best wood protection products that they recommend.
Inspecting - Conduct a thorough examination of the furniture, focusing on potential loose screws, bolts, or fittings. Tighten these as necessary. Additionally, scrutinize the wood for any signs of cracks or splits. This step is particularly crucial following extreme weather conditions, as they can hasten the deterioration of wood.
Repairing - Promptly address any detected issues by conducting necessary repairs. Immediate action will prevent the escalation of the damage, thus prolonging the lifespan of your furniture. Use an epoxy filler for cracks and sand the area smoothly before applying a fresh coat of sealant.
Storing - During winter, store cushions indoors, but cover wooden frames with breathable tarps to protect from snow and debris while allowing air circulation.
Replacing - Certain pieces may become too worn to repair over time. Consider upgrading key items rather than replacing the entire set to decrease costs.
With proper care, outdoor wooden furniture can age gracefully, developing a beautiful patina over the years that adds character and charm to your garden. With some TLC and the occasional repairs or replacement pieces, your furniture setup can remain an oasis you enjoy for many years.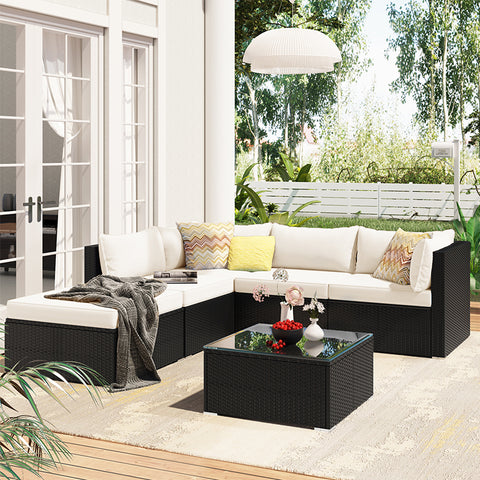 Conclusion
In conclusion, outdoor wooden furniture can transform your garden into a seamless extension of your living space, a place of relaxation, dining, and entertainment. An in-depth evaluation of your garden's layout, a unified design style, and the selection of ideal pieces that align with your needs and preferences can assist you in creating an exceptional, personalized outdoor haven. Concentrating on elements of comfort, diligent maintenance, and mindful decor choice can elevate your garden furniture from being merely functional to a treasured space that will serve you for years to come. Adherence to these guidelines will pave the way towards designing impeccable wooden furniture that enhances your outdoor sanctuary.
Read More