Fabric Lounge Chair: You'll Love It in 2023
Navigation
An Insight into the Fabric Lounge Chair
The lounge chair in the living room is an extension of the sofa, which can be a single sofa that matches the sofa, or a comfortable and stylish single seat.
A large sofa area will produce a dull feeling. In any case, it is necessary to leave some color in the entire space to make the visual look more comfortable.
The lightweight lounge chair is the perfect finishing touch, free and casual, and can flexibly increase or decrease the leisure space according to your needs, allowing for as much aisle space as possible. In terms of collocation, the design of the space should emphasize the integration and unity of the space environment, and unify the colors and materials to create a truly comfortable space.
The lounge chairs with different styles and characteristics form a small space in the corner of the space, which increases the level of the environment and new leisure methods, and also plays a role in decorative embellishment. It is both a resting area and a fine piece of furniture art displayed in the environment.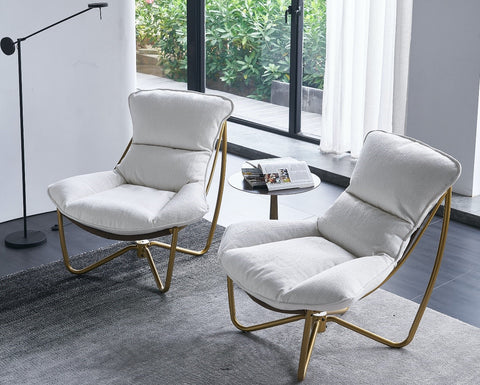 Fabric lounge chair, as the name suggests, is made of fabric materials. The emergence and decoration of fabric leisure chairs, due to their special fabric material, can add a sense of tenderness to furniture such as tables and cabinets of hard materials, making the soft and hard of the home more coordinated, more comfortable, and playing a visual impact effect.
Why is the Fabric Lounge Chair So Unique?
Different from other materials, such as wooden rattan chairs and leather lounge chairs, fabric chairs appear more soft and friendly.
When paired with metal, the fabric's gentleness can dissolve the metal's toughness, making the lounge chair have both a retro industrial temperament and an extremely soft sitting feeling, which complement each other.
Combined with the natural wooden frame, it creates a unique warm and fresh rural style. This is what makes fabric unique that cannot be replaced by other materials.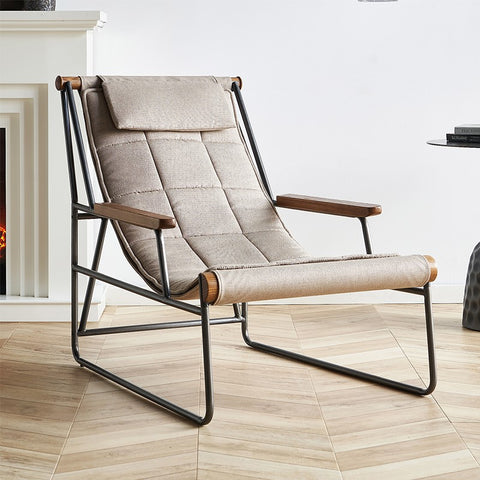 The fabric softens the stiff lines in the home space, giving the home space a warm style, and has unique aesthetic value in terms of practical functions. Smooth silk, dry cotton, soft fur, and rough linen are home life's most flexible decorative elements.
A fabric cannot only be used as an element of fabric leisure chairs, but also as an indispensable soft decoration element in the home appears in all corners of the home, comfortable pillows, elegant curtains, draperies, tablecloths, sofa covers or bedspreads, it can be said that fabric is the source of inspiration for home decoration.
If you want to change the style of the room, you may be able to rearrange the fabric accessories in the home, which can make the whole home environment new.
What are the Benefits and Drawbacks of Using a Fabric Lounge Chair?
Choosing a fabric chair has several advantages:
The surface is not easy to break, and the life is long. If you encounter sharp objects such as knives and needles, scratches will be left on the surface of the leather seat. In comparison, the fabric is not so squeamish. And even to the point where repairs are needed, cloth costs much less than genuine leather. Of course, more importantly, genuine leather is more likely to age than fabric, so fabric chairs last longer.
Sitting feeling is stable and non-slip. The fabric seat feels more stable to sit on and will not slip.
The fabric also has affordable price, light weight and good air permeability characteristics.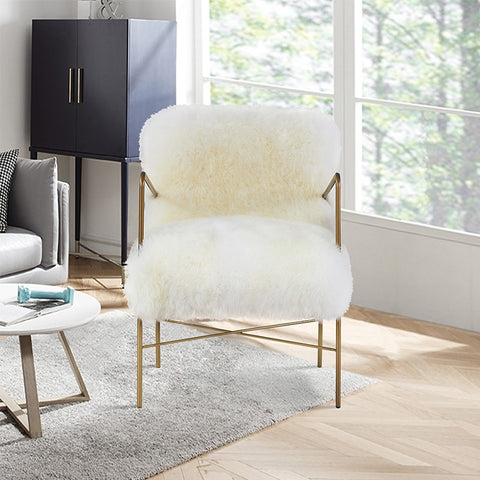 So, what are its disadvantages?
Easy to hide dirt, not easy to clean. Dust can easily penetrate into the interior of the seat.
Poor heat dissipation. The heat absorption of the fabric is relatively strong, and it feels stuffy and not cool enough to sit on it in summer.
How to Choose the Best Fabric Lounge Chair for You
When you buy a chair, you must hope that the quality is good and durable. High-quality fabric lounge chairs must be made of good fabrics, it is recommended to choose a professional furniture brand when buying. Because professional brands have a certain good reputation in the market and have been affirmed by consumers, its quality and service are very good.
Then select the style of the chair. There are many styles on the market, such as Italian light luxury, European, American style and so on. Choose your favorite style and match it with the decoration style in your home, which is the right choice. Only by considering many aspects can you buy the one you are satisfied with.
Way2Furn also has several high-quality lounge chairs and matching furniture for everyone to choose from, helping you make a choice and saving you the trouble of choosing the right leisure chair.
Tips for Cleaning a Fabric Lounge Chair
When you buy back your beloved lounge chair, be sure to pay attention to daily maintenance, avoid long-term exposure to the sun, and vacuum regularly.
If you accidentally stain the surface, you need to gently scrub it with a soft cloth or brush dipped in clean or soapy water. The stained area can also be cleaned with detergent. After washing, place it in a cool, dry place to dry.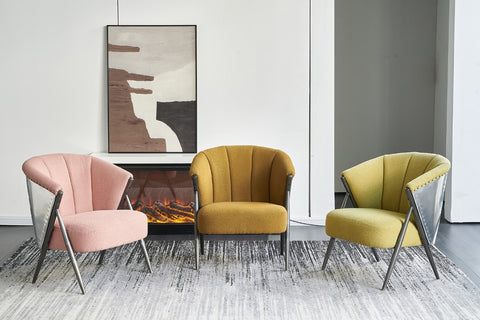 To conclude, if you are looking for a comfortable fabric lounge chair that will never go out of style and can withstand many years of wear and tear, Way2Furn has everything you need, and we hope that our lounge chairs will bring lasting comfort and warmth to your home.
Read More