What Would Happen if You Used Modern Solid Wood Furniture for Your Home Interior Design?
Navigation
Introduction
Solid wood furniture has been a cherished choice for home decor and interior design throughout history. Its enduring charm and warmth create an inviting atmosphere, seamlessly blending the traditional and contemporary. While classic styles continue to shine, modern designs characterized by sleek silhouettes and eco-friendly credentials are gaining popularity. Let's explore the benefits and potential impacts of incorporating modern solid wood furniture into your home interior design, enhancing well-being, and infusing modern aesthetics into your space.
Benefits of Modern Solid Wood Furniture in Home Interior Design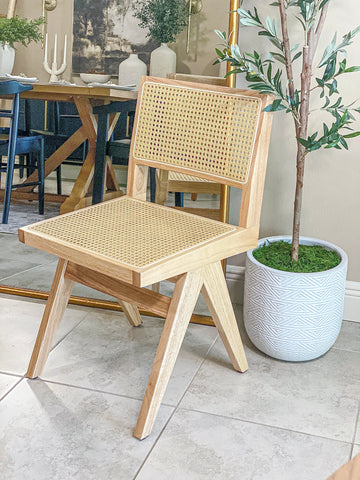 Integrating modern solid wood furniture brings several advantages. As a natural, renewable resource, wood is not only durable but also long-lasting. Expertly crafted wood furniture can endure decades of frequent use while preserving its appeal. In contrast, cheaper alternatives like particle board or metal frames often deteriorate more rapidly, requiring more frequent replacement.
Wood furniture plays a role in regulating indoor air quality by absorbing pollutants and releasing moisture. It is naturally resistant to insects and rot and does not harbor toxic chemicals found in some other materials. Additionally, the warm glow of wood contributes to an inviting ambiance and soothing atmosphere.
Aesthetically, modern wood designs complement a variety of home decor styles, ranging from mid-century modern to rustic farmhouses. Wood accent pieces such as benches, stools, nesting tables, or console tables provide versatile style solutions for small spaces or multifunctional areas. Overall, solid wood furniture infuses your home with style, substance, and wellness benefits that can elevate your living space.
Types of Modern Solid Wood Furniture for Interior Design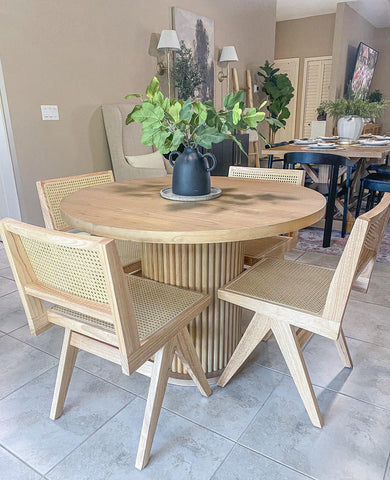 Several popular types of modern solid wood furniture are available for interior design, including:
Wood Dining Tables:
Mid-century modern wood dining tables and chairs: Simple designs with sleek legs and tapered edges, ideal for open-concept spaces.
Wood console tables: Long, low tables perfect for entryways, mudrooms, or behind sofas, often featuring metal legs for an industrial look.
Wood nesting tables: Stackable tables that can be used together or separately, offering compact designs for small apartments or side tables.
Solid Wood Coffee Tables: Enhance your living space with durable and stylish solid wood coffee tables, available in a variety of designs to suit any decor.
Suspended wood pendant lights: Stripped wood planks hung from metal chains or cords in geometric patterns, adding interesting shadows and textures.
Live-edge wood tables: Natural edge shapes resembling tree trunks, offering rustic, organic forms perfect for casual, nature-inspired spaces.
Wood Chairs:
Wood accent chairs: Single chairs, stools, or ottomans provide stylish seating options, with swivel or armchairs also suitable.
Wood dining chairs: Solid Wood Rattan Chairs, Natural Wood Chairs, etc. Improve your dining experience with high-quality and stylish wood dining chairs, available in various designs to suit any decor and budget.
Wood Cabinets:
Wood wall boards: Thick wood planks arranged horizontally on walls for paneling, often whitewashed or distressed for a coastal vibe, providing texture, warmth, and visual weight.
Wood credenzas: Tall cabinets with shelves behind glass doors or solid wood panels, offering a stylish solution for displaying decorative objects, photos, or books.
Solid Wood Cabinets: Enhance your home organization with stylish and durable solid wood cabinets.
Wood Beds:
Wood bed frames: Headboards and footboards in solid wood with metal details, offering a comfortable and photogenic option for content creation or e-commerce product images.
Wood Sofas:
Solid Wood Arm Sofas: Add warmth and quality to your living space with solid wood arm sofas.
Solid Wood Cane Sofas: Experience comfort and elegance with solid wood cane sofas.
With such a diverse range of versatile and trendy options, modern solid wood furniture enables you to create distinctive spaces tailored to your style and needs. Selecting the right pieces of wood furniture can make a significant impact on your home's interior design.
How to Incorporating Modern Solid Wood Furniture into Your Home Interior Design?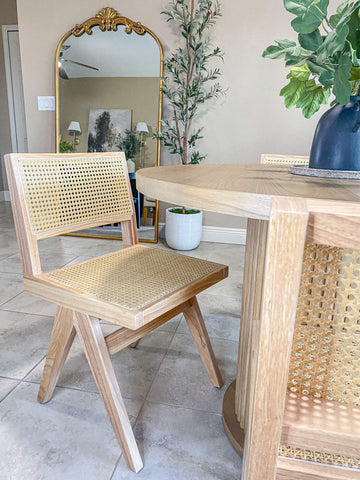 Here are some tips for integrating modern solid wood furniture into your home interior design:
Emphasize natural, minimalist styling by choosing solid wood pieces with simple designs that complement a curated, clutter-free space. Wood accent furniture, like tables, benches, and stools, helps maintain clean lines.
Introduce mid-century modern wood dining tables and chairs to create a focal point in an open-concept kitchen or dining room. Pair with sleek chairs for a cohesive look.
Add wood console tables for extra storage in various spaces, like behind a sofa, at the entranceway, or beside an armchair. Metal legs enhance the style.
Use wood wall boards for texture, arranging thick wood planks horizontally on walls for paneling. Whitewash or distress the wood for a coastal aesthetic and a warm, rustic backdrop.
Include a credenza for display, featuring glass doors or solid wood panels, ideal for showcasing a curated collection of books, art, or other treasures.
Bring in wood nesting tables, which nest together when not in use, but can also be arranged separately as side tables for versatile and space-saving solutions.
Add a wood bed frame to ground other modern elements in the space, such as metal bed frames, metal side tables, or pendant lighting, elevating the bed for a stylish, photo-ready space.
Incorporate suspended wood pendant lights with stripped wood planks hung in intriguing geometric patterns, adding warmth and visual interest without occupying table or floor space.
Opt for live-edge wood tables, whose natural edges lend an organic, rustic style, setting a natural, coastal tone or contrasting sleek metal elements like bases or legs.
Consider a wood credenza for storage, anchoring a room with a tall cabinet featuring shelves and doors, including wood panels, metal details, or a mix of materials for visual depth.
With a versatile palette of wood tones and modern details, you can create a cohesive space that strikes the ideal balance between warmth, minimalism, and style. Solid wood furniture enhances the atmosphere and architecture with lasting appeal. By following these tips, you can brilliantly incorporate wood pieces into your home's interior design.
Maintenance and Care of Modern Solid Wood Furniture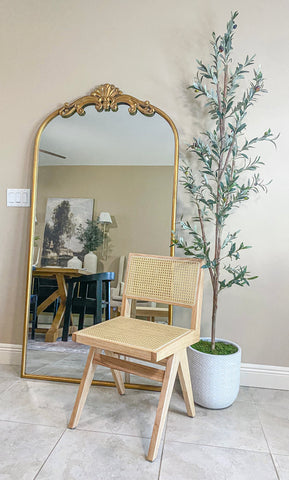 To keep your modern solid wood furniture looking its best, proper maintenance and care are essential. Follow these tips for preserving solid wood furniture:
Wipe up spills immediately with a clean, soft cloth to prevent watermarks or warping. Avoid rubbing the wood, as it can scratch the surface.
Use protective pads, such as felt pads, coasters, or placemats, under legs and bases to prevent scratches on floors, especially for gloss or lacquered wood.
Dust regularly using a microfiber duster, soft brush, or dusting spray designed for wood. Dust in the direction of the grain, not against it.
Polish wood occasionally with a soft cloth and wood polish for deeper shine and protection, applying a few times per year and rubbing consistently until absorbed.
Oil or wax wood as needed, using fine grades of tung or linseed oil to nourish wood fibers and create a warm glow, or wax to form a protective coating. Follow directions carefully.
Employ wood conditioners for scratches, buffing out light scratches with products designed to match your specific wood type. Consult an expert for deep scratches.
Place wood protectors on long edges, sliding felt pads, or magnetic wood protectors along exposed edges of tables, desks, console tables, etc., to prevent damage from chair arms or other edges.
Wipe metal details regularly, as brass, steel, or oxidized silver details on wood pieces may tarnish over time due to touch, friction, or even wood polishes. Maintain the patina or shine by wiping it down with soft cloths.
Consider professional refinishing if, over time or with frequent use, wood surfaces become dull, develop scratches, or show other signs of wear. Professional sanding and refinishing can provide an attractive new finish, making your furniture look as good as new.
Avoid exposure to extreme heat or cold by not placing wood furniture near heating or cooling vents, or in unheated garages or sheds where temperatures can fluctuate wildly. This can cause the wood to warp, crack, or split.
Keep a record of maintenance, noting each polish, oil, conditioner, or other product used for your wood furniture, along with the dates applied. This can help with future touch-ups or professional refinishing.
By regularly dusting, polishing, and providing proper protection and care, you can keep your modern solid wood furniture looking stylish for years to come. Heartwood and newer species of wood may eventually dull with age and use, developing a warm patina rather than aggressively fighting wear. Embrace this natural evolution for a look that suits the character and memories built within your space.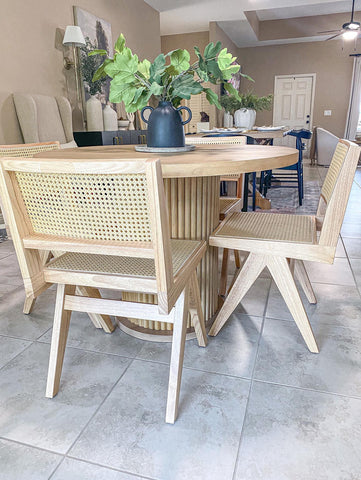 Conclusion
Incorporating modern solid wood furniture into your home interior design offers numerous benefits. Solid wood is a natural, eco-friendly, and long-lasting material that provides style, texture, and warmth, with a variety of options available for spaces of any size or style.
Wood furniture helps regulate indoor air quality, reducing pollution while enhancing comfort and wellness. It complements minimalist, mid-century modern, and rustic design aesthetics with versatility and visual depth. With careful selection, solid wood pieces can make a significant impact and defining statement in your home.
However, wood does require some maintenance to preserve its beauty and integrity. Proper dusting, polishing, protective pads, and occasional professional refinishing are necessary, especially for high-use furniture. While solid wood will develop a warm patina over time, with the right care, it can provide a lifetime of style and enjoyment.
By understanding the benefits of different wood types, staying current on trends, and maintaining your pieces adequately, you can achieve a space that is healthy, livable, and memorable. Solid wood furniture embraces the qualities that transform a house into a home, anchoring spaces with natural style and substance. Its timeless and enduring appeal suits any vision of home, from modern lofts to coastal cottages and everything in between.
In summary, modern solid wood furniture provides an attractive, high-quality, and environmentally-friendly solution for enhancing any home interior design. When treated and cared for properly, beautiful wood pieces can stand the test of time while creating a warm and welcoming environment. With the variety of options now available and concepts for styling and care, incorporating solid wood furniture allows you to achieve the space of your dreams.
Read More